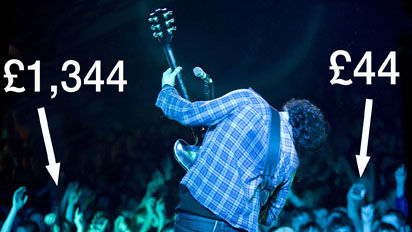 I hate ticket touts with an absolute passion and nothing winds me up more than trying to get tickets to premium event, where the tickets sell out in minutes only to re-appear moments later on Ebay at two or three times the price. Just writing about it winds me up and I'm actually fighting the urge to use profanity due to the fact that I'd like to try and keep the British IBM page looking vaguely professional. I do however think that the use of the "the C word" is completely justified when talking about ticket touting scum.
It was with a combination of interest and frustration that I watched Dispatches: The Great Ticket Scandal on channel Four the other night. I knew that there were people out there using multiple credit cards and mobile phones to buy large quantities of tickets to re-sell at a premium but I had absolutely no idea how far it went. I think that the founders of Viagogo and Seatwave should be strung up and shot along with the promoters who are pre allocating tickets to them.
I remember about ten years ago sitting in an office, with me a few mates all hitting refresh on a ticket site, whilst hitting re-dial on our phones trying to secure tickets for an upcoming Oasis tour. After five minutes of them going on sale they'd sold out. Then almost instantly Ebay was flooded with the same tickets. The whole thing leaves a bitter taste in my mouth and actually puts me off even trying to get tickets to certain events anymore just due how much the entire thing winds me up. It should be illegal to sell on any ticket at a profit; the market in which touts are beginning to thrive on a mass scale shouldn't even exist. If for some reason you have a ticket to an event that you can no longer go to then it should be sent back to the venue for re-allocation.
If you missed it, you can watch it here:
http://www.channel4.com/programmes/dispatches/4od